If you are a pensioner or state worker in Brazil, you would be familiar with the issue of delayed salary payments. You would also remember the protests made during last year before Olympics by public servants including police and firefighters for not getting paid. Even earlier this year, there were news about Brazilian states struggling to pay their employees. As an alternative solution to this late salaries problem, many public servants and pensioners take the payroll loan option offered by banks. However, borrowers have to do all of the manual research by themselves to decide which bank or financial institution they should choose that offers lowest fee and better interest rate.
To solve this problem and empowering borrowers in Brazil to compare and pick a most suitable lender for their needs, our latest portfolio startup from YCombinator's Summer 2017 batch called bxblue is offering an online marketplace for payroll-secured loans.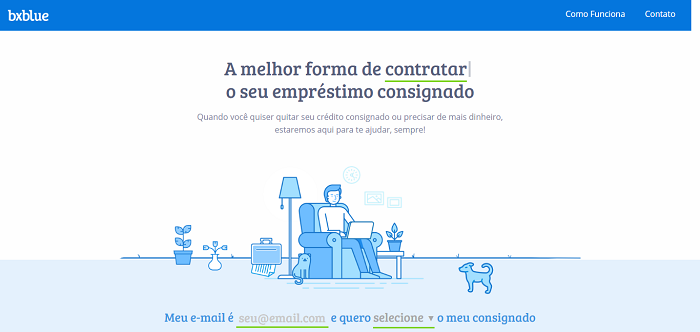 It's really simple to get started with bxblue. You just have to provide basic information about your employment status and your personal information such as your name, email, phone and CPF (Taxpayer Number). bxblue connects with Sigepe to validate your CPF details and get up-to-date information on the paycheck like margin and loan cases etc. so that it can provide you better quotations from financial institutions registered with bxblue. If borrowers don't want bxblue to connect with Sigepe then alternatively, they can upload their paycheck copy to be reviewed by bxblue.
bxblue doesn't just help you borrow payroll loans at best rates but it also keeps all of your loans information organized and also keeps you informed through alerts about useful information like when interest rates are falling for refinancing and is there a contract that can be settled in advance etc. which helps you always stay on top of your loans related matters.
So, if you are in Brazil and interested in getting a payroll loan, don't wait and contact bxblue.