If you own a smart phone, you might have used a personal assistant or at least heard about it. They have different names. For example, Apple names it as Siri, Google calls it Google Assistant (formerly Google Now), Amazon brands it as Alexa and Microsoft uses Cortana. All of these personal assistants are in fact AI-powered applications that try to understand what you say and then perform necessary actions. Mostly, they work fairly however occasionally they fail in understanding questions expressed in natural language specially in use cases when a user asks multiple questions in a single sentence or there is variation in a user's wording etc. Similar issues are also faced by other natural language interfaces like chatbots which are being widely used almost everywhere now.
To solve these issues, Plasticity – our San Francisco based portfolio from YCombinator's Summer 2017 batch is offering APIs to developers for seamless integration with their platforms and provide a human-like natural language interface to their customers.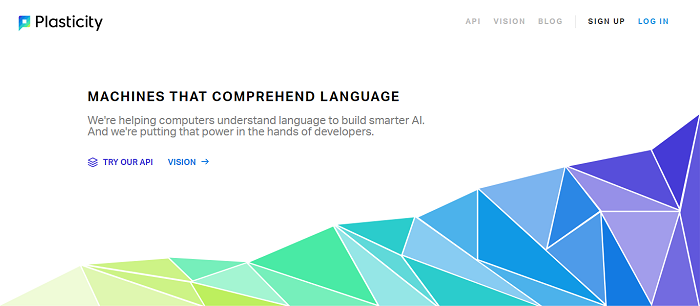 Plasticity is offering two types of APIs at the moment. One is Sapien, a general natural language understanding API that allows developers to extract entities, relationships between entities and related context from text which helps them to parse and analyze text in a better way and retrieve structured information hidden in the sentences or build stronger conversational interfaces. Other is Cortex, an API that lets you query a knowledge graph (containing 180+ million facts about 20+ million entities on people, places, government and other things at the moment) in natural language. For example, if you will query about "How old is the president?", it will respond with the age of current president of United States.
There are two more APIs coming soon named as Lingua and Brevis. Lingua will provide human-like natural language responses to questions and Brevis will provide summary of articles or input text with structured meta information about entities.
Plasticity pricing plans are based on usage. 999 API requests per month are free for everyone but for more, you have to pay. Most importantly, if you are developing an open source product or building for education then you can use Plasticity APIs for free without paying anything. So, if you want to build solutions using next generation natural language APIs then go ahead and Sign Up.