GIF (Graphics Interchange Format) images or in simple words, animated images are not new. They exist since late 80's however now they are more popular than ever. GIF images are mostly being used in social media, blogs, websites and even newsletters by marketing experts because they attract more attention of the audience and also help in improving performance of CTAs (Calls-to-Action). Besides marketing, people also share GIF images with their friends and family members for fun to express their feelings, emotions and anything they want on different social media and messaging platforms like Facebook Messenger, WhatsApp, Snapchat, Viber etc.
There are tons of GIF creation apps and utilities that you can use. Some even provide you lots of features to create, edit and customize GIFs but it requires some efforts because you just not have to write text but also find and upload images that can match with your text so that a good GIF can be created.
What if there is a service or platform that only ask you to write the text message for your GIF and then it automatically finds and uses the video that best matches with your text message to create a perfect GIF instantly?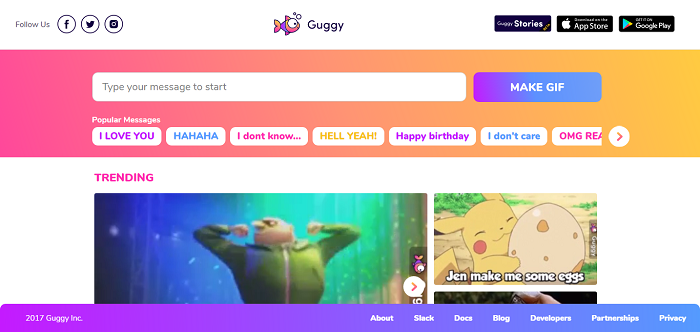 Meet Guggy, our latest portfolio startup from YCombinator's Summer 2017 batch that just asks you for the text message and then uses advance Natural Language Processing (NLP) technology to find funny videos that relate with your text message. All videos matching with your text message are listed for you to choose and then share it as a GIF. Your text message is also automatically added to videos as caption so you don't have to do anything else except sharing it with others.
Guggy also offers Guggy Stories (a beta feature) that lets you create and combine multiple GIFs as a story. After you choose a GIF, it requires you to enter another text message for which a new GIF is created and so on. Finally, GIF based messages are combined in the order you create them so that you can share them as a story with others. Guggy also offers keyboard apps for iOS and Android using which you can just write the text message and click Guggy button to create and share GIFs with any messaging app including Facebook Messenger, WhatsApp, Viber, Snapchat etc. from your mobile devices. Guggy also has an app for Slack using which you can just write /guggy and then type your text message to share it as a GIF.
It's really simple and the NLP engine behind Guggy matches most relevant and funny videos according to your text messages which just works. If you don't believe us then give it a try and experience the fun with Guggy.