Whether you are a real estate agent or a broker, you better understand how hard is it to convert leads. But, do you know that one of the important factors that effects conversion rate is response time?
Yes, according to a latest research, leads that are responded in less than 5 minutes have 21 times more chances to convert. But, is it possible to respond leads so quickly?
Well, normally most of the properties are listed on the real estate websites or mobile apps with inquiry forms which potential buyers fill in to get contacted by the agents. Buyers can check your properties any time and hence any time leads can be created. You may not respond to those leads in time if it's your family time or you are busy dealing with some other customers. Sometimes, even leads are missed and never contacted back hence many potential opportunities are lost. So, what's the solution to these problems?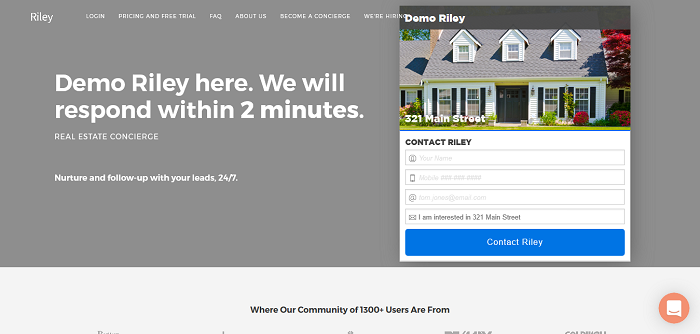 The answer to this problem is Riley, our new portfolio startup from YCombinator's Winter 2017 batch that offers lead qualification as a service to real estate agents and responds to leads within 2 minutes, 24/7 via SMS. Riley also applies lead scoring to identify the hottest leads and produce more results. In the age of artificial intelligence, Riley brings a 100% human powered solution to its customers that has the ability to double the conversion rates from their leads. Internally, Riley works as Uber for Concierges where concierges have to pass certain tests to join Riley and on top of them, there are concierge managers and quality control managers to manage everything. One of the amazing features offered by Riley is that customers can see live conversations between Riley concierges and their leads. At any time, if a customer wants to take over the conversation, he can jump in and talk to the lead directly. It also helps customers to review performance of their concierges. Riley concierges use proven scripts to have conversations with the leads but if customers want, they can also use custom scripts and assign them to different types of leads.
Riley offers all of these goodies as flexible pricing plans starting from $199 per agent for up to 50 leads per month and operates at 81% gross margins. For now, Riley focuses on residential real estate agents but has plans to grow its business by also targeting insurance & car sales agents and mortgage lenders.
If you are interested in using Riley as first point of contact for your leads and would like to learn more about it, go ahead and Schedule a Call!