Professional software used by developers, designers and architects is becoming more powerful and resource hungry virtually each year. To keep up with the latest technologies, individuals and companies are forced to continually upgrade their hardware.
There is also an army of gamers, who are forced into buying $1k+ high-end gaming PCs instead of spending those money on new games and gaming equipment like VR headsets.
Meet SIXA – a desktop virtualization startup that offers a solution to reduce overhead on upgrading hardware and yet have the power of a high-end desktop PC required to run even the most demanding software.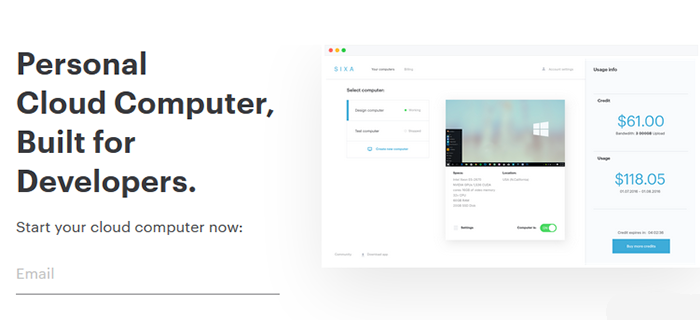 SIXA lets users access power computers in the cloud. It offers custom computer setups for developers, designers and gamers. Each setup comes with preinstalled software for their specific use cases. A basic computer setup currently includes an Intel Xeon E5-2666 v3 (Haswell) processor, 30GB of RAM and 200GB SSD Disk. Users can add more power by ordering higher specs.
With SIXA, users can deploy and control multiple virtual computers in a single account. For example, developers may have individual setups for different projects, being able to switch between them with just a couple of clicks.
SIXA's virtual computers can be accessed from a wide range of devices, including laptops, tablets, smartphones and even SmartTVs. To learn more about the startup, visit SIXA's website.