Currently there are almost 5,000 satellites orbiting the Earth. Over half of those are in low earth orbit (LEO). The number of satellites launched has seen a sharp upturn in recent years. Some of the primary concerns for those looking to have their satellites launch into LEO are cost and lead time. On average, it cost $62m USD to launch a satellite with a lead time up to 9 months.
Solving these problems is no simple task. In fact, you can call it rocket science. Most current launch methods are so expensive due to high cost of non-reusable first stage rockets. Velontra, a YC S22 startup, is looking to change that by building hypersonic space plane and the engines that power it. Velontra's space plane will effectively replace the first stage rocket and will launch a second stage rocket from a very high altitude. Their air-breathing propulsion system is up to 6 times more fuel efficient than any rocket and uses oxygen from the air, instead of an onboard O2 storage tank. This creates thousands of pounds of additional payload capacity.
Velontra also addresses the second most common issue with launching satellites into LEO – Lead Time. Their space plane can takeoff from anywhere in any weather. This horizontal takeoff increases launch reliability and enables customers to directly access any orbit with a lead time of less than a week.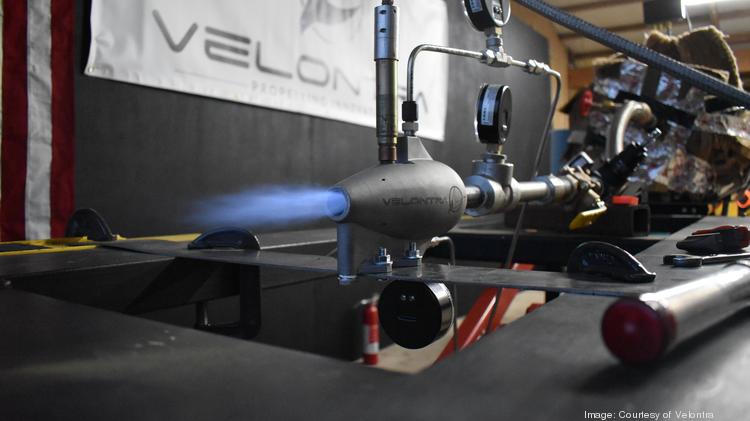 Founding Team
Velontra's founding team includes Joel Darin (CTO), Robert Keane (CEO), and Graig Whelden (President). Each member of the team has an impressive background, and their related experiences provide them with vast array of domain knowledge in the hypersonic and aerospace arenas.
Joel was formerly a Senior Research Engineer at Innovative Scientific Solution Inc, Senior Propulsion Engineer at Hermeus, and an Aero Design Engineer at GE Aviation. While at Hermeus, Joel designed, built, and tested a Turbine-Based-Combined-Cycle prototype demonstrator capable of Mach 4+.
Robert formally worked on the railgun program at BAE Systems where he facilitated the manufacture and assembly of hypersonic launchers. Prior to that he was a Military Exhaust System Mechanical Design Engineer, Military Power and Propulsion Engineering Aero and Thermal Technologies Aero Engineer, and Military Inlet and Exhaust Mechanical Design Engineer at GE Aviation. Robert is also a former Force Recon Marine with an award for valor in combat.
Graig is a retired Army 2 Star General and has occupied many leadership roles as both a commissioned officer in the Army and a Civilian Executive Director of the Marine Corps Forces Pacific. Given Graig's experience, we believe that he will be a driving force to keep Velontra on mission.
Hard Technology
Velontra is building a hypersonic engine capable of reaching Mach 5. That is only the first step on their journey, and they already have several buyers lined up, including Venus Aerospace, to purchase their engines. The next step will involve creating an Unmanned Aerial Vehicle (UAV) that utilizes the hypersonic engine that is capable of reaching Mach 5 and launching a second stage rocket into low Earth orbit from an altitude of 100,000+ ft. At Zillionize we pride ourselves on investing in hard tech and Velontra is a great fit in that aspect.
Summary
Velontra's engine technology has wide commercial and military applications and they already have millions in current government/commercial contracts including letters of intent. At Zillionize we believe that they are well poised to become the SpaceX of hypersonic flight.
Velontra is well on their way to achieving their goals and has the founding team will ensure that happens. Zillionize is excited and very pleased to be a part of their story.