The Global Human Resource Outsourcing Market is on track to increase by nearly $11 billion USD by 2026. This market will be dominated by North America where the region will account for 56% of the market's growth in that period.
Thera, a YCombinator S22 Batch company knows that the HR resource market has exploded in growth and plans to offer an all-in-one HR and Payment platform for remote teams.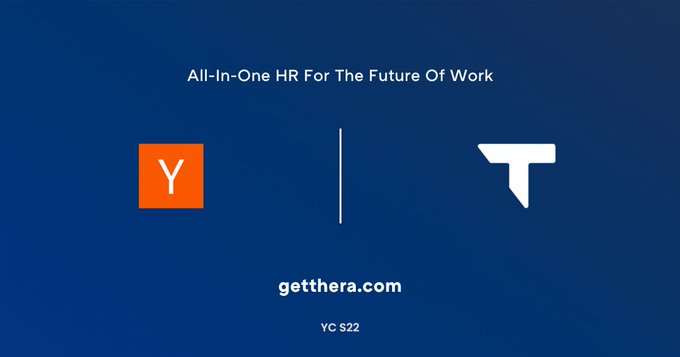 The Covid 19 pandemic changed the way employers worked with their teams forever. Vast numbers of the global workforce were introduced to working from home for the first time, and employers became comfortable knowing they didn't need to sit in the same room as their team to get work done. In the US alone, 17 percent of employees worked from home 5 days or more per week, a share that increased to 44% during the pandemic.
This paradigm shift led to an explosion in remote working and hiring. Suddenly, from tech startups to law firms, employers were happy to embrace hiring new employees in other regions and countries for the first time. While the availability of remotely available talent was high and the speed to hire was fast, the complexity in satisfying the back office tasks of payroll, insurance, and compliance became exponentially more complex for the companies doing the hiring.
With cloud adoption at an all-time high and small to medium-sized businesses becoming more comfortable outsourcing key back office functions to reduce complexity, compliance, and admin time, the adoption of EOR (Employer Of Record) and PEO (Professional Employer Organization) services has exploded, and while expensive, companies are willing to pay for their services.
Thera gives employers the power to take back control and bring these expensive outsourced services back internally to the company. Thera's opinionated HR solution allows companies to take control of these HR processes, manage global contractor payments, stay compliant, and save money at the same time.
As operators in companies with a remote workforce since 2002, Zillionize understands the problem and complexities that surround it, this is why we were keen to invest in Thera when we spotted them presenting at YC S22.
How does Thera help remote employers?

EOR's and PEO's are organizations that enter into join-employment relationships with employers, essentially leasing employees back to the employer. This allows companies to outsource their HR functions (payments, benefits, compensations, payroll, taxes, and insurance) and focus on their business rather than get burdened with bureaucracy and complex compliance.
Thera's take is that mainstream HR solutions were never built with the post-pandemic, remote workforce in mind. Companies sometimes have to rely on several different platforms to manage their payroll, compliance, and benefits. This is inefficient, complex, and time-consuming.
Thera's all-in-one solution allows companies to manage all areas in one system. A complete HRIS (Human Resources Management System), Multi-Country Payroll, 135 Country Compliance Engine, and Remote Benefit management system.
This all-in-one solution with its opinionated approach means Thera customers can avoid expensive EOR and PEO companies and deal with their HR function themselves, easily and efficiently using the Thera system.
The Founding Team

Thera was founded by tech veterans Akhil Reddy (Ex-Amazon) Thera's CEO, and Dan Burke (Ex-Palantir) Thera's CTO, in the April of 2022.
Akhil graduated from the University of Maryland with a Bachelor's degree in computer science, during his time here he was awarded the Fig Leaf Software Drucker/Gallerizzo Computer Science Scholar, one of only two recipients. He has had several technical roles over the years, most notably as an Amazon Engineer just before founding Thera.
Dan graduated from Rice University with a Bachelor of Science in Bioengineering and Biomedical Engineering. Similar to Akhil, he comes from a technical background with several software engineer roles including Capital One and Palantir before joining Akhil to found Thera in 2022.
One of Zillionize's key criteria when investing in a startup is that the founding team is technically capable of bringing the startup they are founding from idea to reality. We have great confidence in the pedigree of Akhil and Dan and believe they have what it takes to bring Thera to market and make a sizable impact on the industry.
Summary

Thera is focused on disrupting the massively growing Global Human Resource Outsourcing Market, they aim to allow their customers to manage their own HR function rather than resort to expensive EORs or PEOs. Their opinionated design means that their customers will follow a set process that will allow them to provide a consistent and reliable service.
We believe Thera's concept is early to market and bold in what it aims to achieve. We're proud to have invested in the Thera team at their Seed round and look forward to watching their growth over the next few years.