Today, approximately 30%, or almost one third, of the world's data volume is being generated by the healthcare industry. By 2025, the compound annual growth rate of data for healthcare will reach 36%. That's 6% faster than manufacturing, 10% faster than financial services, and 11% faster than media & entertainment. At the same time, IT investment in healthcare is among the lowest of all industries. As a result, healthcare IT departments have difficulty catching up with data management challenges, let alone investing in advanced architectures and other necessary technologies.
If healthcare-tech companies are going to deliver on the promises of personalized, faster, more effective care, then they must be better than average when it comes to data preparedness and competency. Companies looking to be relevant in the future will need to understand the role that data plays in their organization. They will need to embrace their role as data guardians, leverage the cloud, and take a global approach to their data. Metriport is a YC S22 startup that's helping to solve these problems by building an opensource API that allows digital healthcare companies to access and manage health and medical data.
Improving the healthcare data landscape is no easy task, especially since solutions must be HIPAA and SOC2 compliant, so Metriport has their work cut out for them. That's one of the reasons that Zillionize took notice of the YC startup; we love companies that are solving complex or difficult problems. We're especially fond of startups solving complex software problems, which makes Metriport a perfect fit for our criteria. Let's look at some of the other reasons that Zillionize sought to join Metriport's journey.
A Unique and Open Approach
Zillionize looks for first movers, which is a company that's first to market with a product or service. Sometimes being first to market can come in the form of a unique solution to an already well-known problem. For example, there is no shortage of APIs in the healthcare data arena. However, almost all of them are paid, proprietary solutions which means they come with the risk of vendor lock-in. Metriport is unique in that they're building an opensource API for healthcare data. Healthcare-tech companies can use Metriport's platform without worrying about being stuck with a stale and expensive data layer.
One other plus is that Metriport is the Swiss Army Knife for healthcare data. They're not just targeting Electronic Health Records (EHR), which is an important piece of the puzzle, but they also aim to support patient medical data and health device integration. Healthcare software creators can use Metriport's API to solve almost any health data need. There's no need to cobble together a solution that relies on multiple vendors or APIs.
The Founding Team
Metriport was founded by Dima Goncharov and Colin Elsinga. Dima, Metriport's CEO, is a software engineer with experience building everything from aerospace systems to highly available cloud database services at Amazon (AWS). Colin, Metriport's COO, is a software engineer with experience building consumer health apps, and he previously worked for an online health retailer in Vancouver. The pair have been friends for over 15 years, having met in middle school, and they both quit their engineering jobs in late 2021 to collaborate on Metriport.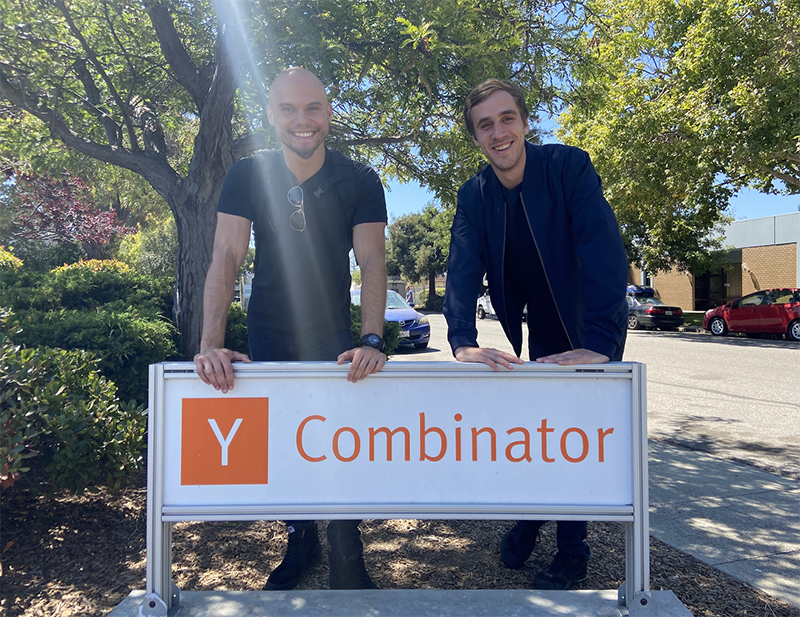 Zillionize believes that the founding team is the most critical element of a successful startup. Unicorns must be driven by a reliable team that continually inspires and motivates one another. Founders must be willing to learn, pivot, and continually grow. Dima and Colin did exactly that midway through their YC batch. They were accepted into YC based on a consumer health app that allowed users to track and find relationships between a wide variety of health data, like: calories consumed, steps taken, medicines, mood, sleep span, exercise, or anything else. Despite the app having early success and traction, they decided to pivot into a new direction mid-batch, in order to make a much larger impact in the healthcare space.
While we really like the idea behind the original app, we agree with their decision to pivot in a new direction. We believe that if they approach this new idea with the same excitement and energy they put into the app, then nothing can stop this powerful duo from becoming one of YC's next unicorns.
Summary
Metriport is keenly focused on a healthcare interoperability solution that helps digital health startups wrangle the data they need to grow and scale quickly. They aim to offer an affordable, HIPAA and SOC2 compliant, full-service API for startups that's quick to go live with. They're betting on the open-source nature of the product because they believe transparency and dev-friendliness are keys to establishing trust in the health-tech space. Zillionize agrees and obviously others do too because Metriport was picked as one of TechCrunch's eleven favorite companies from YC's first Demo Day. We're excited about their product and thrilled to be part of their story.