Reality Defender is a user-friendly, no-code platform allowing companies to scan for fake content within media (audio, video and images). Reality Defender's API and web app provide real-time scanning, deepfake scoring and PDF report cards, meaning that previously unscanned media can now be reviewed, in real-time with a new level of accuracy and accessibility.
The project began as an incubation initiative between Microsoft, Intel and the AI Foundation. Their shared vision was to empower humanity to recognize the truth.
Reality Defender was spun out of the AI Foundation's commercial arm to enable their vision to bring the potential of AI to everyone in the world, so we can all participate fully in the future.
The AI Foundation is funded by Founders Fund, You & Mr Jones, Endeavor and Twitter co-founder Biz Stone. Reality Defender are a part of YCombinators Winter 22 batch.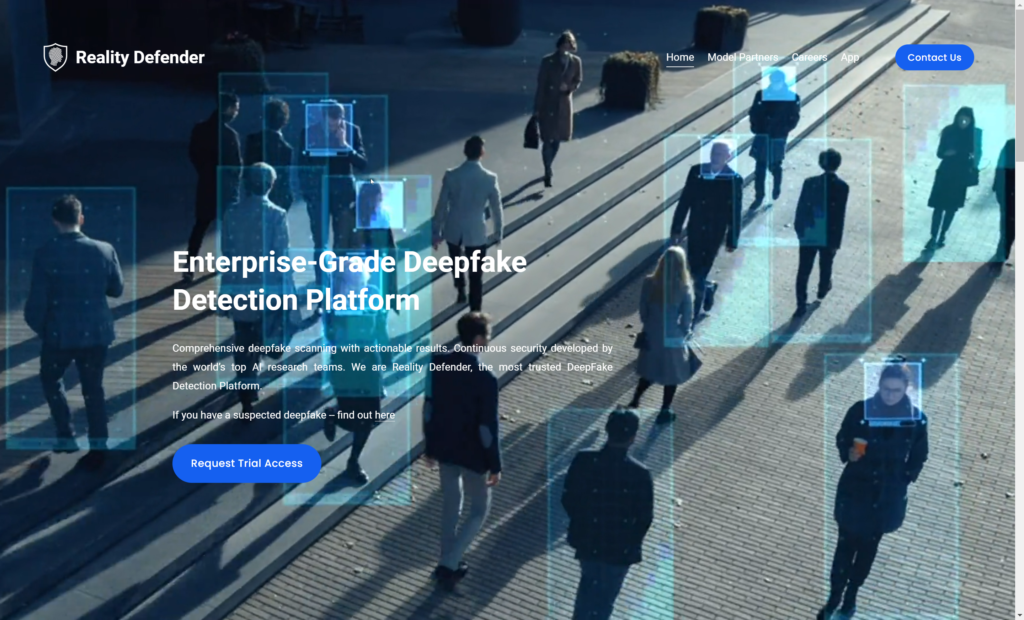 Team
The Reality Defender team is made up of Ben Colman (CEO), Gaurav Bharaj (Director of Research) and Ali Shahri (CTO & Co-founder).
Ben is a serial founder, he is the NYC lead of Xoogler.co (Helping ex-Googlers (Xooglers) launch successful startups & Googlers/Xooglers to invest in them), he is an angel investor, board member and founder. He has an MBA from NYU Stern School of Business, and a BA in economics from Claremont McKenna College.
Guarav has had several high level research roles in Adobe, Intel, Harvard, Technicolor and the AI foundation. He has a PHD from Harvard.
Ali has a solid software engineering background, he started his career in Cicso in 2000 and worked for several startups / companies before co-founding Thrive in 2006. He was a director / senior engineer at Originate for 10 years and joined the AI foundation as Director of Product in 2019. He has a BS & Masters in Comp Science from the University of California.
Complex technology for an emerging new threat
The possibility to weaponize artificial intelligence tools or deep fake generators is starting to come of age. The ability to sway an election or geo-political stability through deepfake videos of world leaders is quickly becoming a reality.
Having the tools to reliably and quickly differentiate real messages from fake ones will be important to help tackle the upcoming wave of digital terrorism as well as the ever present threat of identity theft.
Reality Defender's platform has indexes of 100 million video, image and audio assets giving them the world's most robust deepfake detection dataset. Through this they can give users actionable results which is accessible through a web app or API.
Summary
Reality Defender has an impressive product, world class partners and customers as well as a team that knows how to execute on their vision.
These core points make Reality Defender a perfect seed investment for Zillionize and we are proud to be involved in the future of Reality Defender.
Zillionize is a seed round investor which has been investing in technology startups since March 2011. We look for early startups who we believe can see the future. We use a data-driven approach to identify startups we love and want to invest in for the long term. Zillionize has invested in a number of unicorns and we look forward to more of our portfolio joining this list in the years to come.