Bedrock AI is on a mission to deliver information transparency. Their web-based research tools help investors reduce research time and increase portfolio returns by facilitating detailed public company analysis at scale.
The Canadian team behind the startup are using their experience as Natural Language Processing (NLP) researchers and CPAs to take a different approach at providing insight on public companies. Their initial product is mostly ignoring financial ratios and instead provides insight from long form text with the help of their carefully crafted machine learning models.
Most public company data is unstructured and textual. Because relevant information is hard to find, a lot of corporate data is radically underused, to the detriment of investors. For example, our research shows it can take 12-18 months for corporate malfeasance to be incorporated into stock price after clear warning signs appear in financial text. Hard-to-find information that we extract includes accounting and governance choices, product defects, regulatory issues, customer/market reliance and much more.

Kris Bennatti – Co-Founder of Bedrock AI
Bedrock AI's software detects accounting policy changes, regulatory problems, and other material information buried in 100s of pages of annual reports that most analysts never see.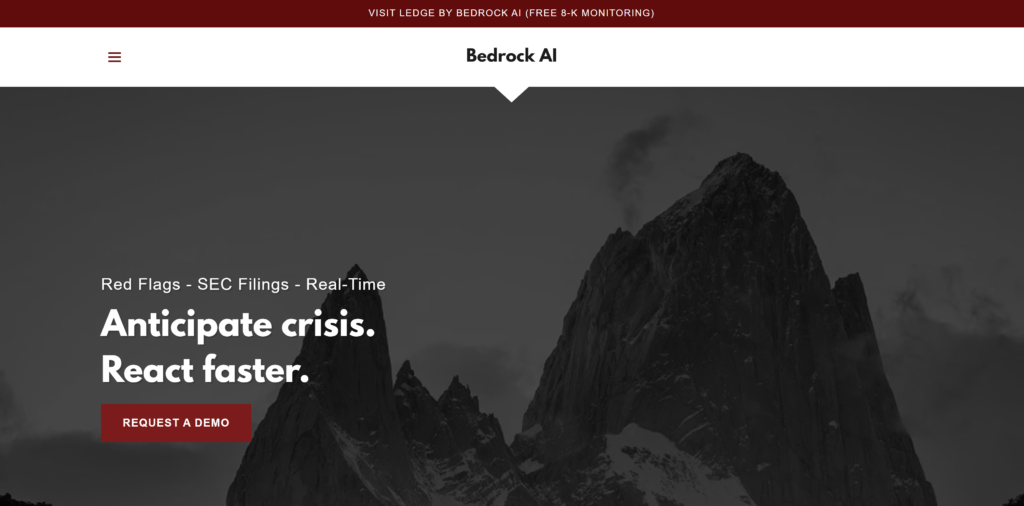 The startup was recently featured in an article detailing their focus on corporate fraud by the Institutional Investor: 'Short Sellers and Hedge Funds Sign On to Fintech Company Whose Algos Sniff Out Corporate Fraud'.
After launching in April 2021, Bedrock AI have sold to a number of institutional investors and engaged in pilot projects with securities regulators. In addition, they offer a minimalist free site, Ledge, to help retail investors stay up to date on material events at companies they follow.
The team have recently completed Y Combinator's S21 batch and we are excited to have them join our portfolio at Zillionize.
For more details, check out Bedrock AI at https://bedrock-ai.com/