Graduated from Y Combinator's S15 batch in 2015, the first company to perform FAA approved drone delivery in USA and one of our portfolio startups, Flirtey just announced that it has completed its technology (including an advanced drone named Flirtey Eagle, a landing and take-off platform called Flirtey Portal and its state of the art autonomous software system that controls its autonomous flight operations) to certify and expand the production of its drone delivery system in United States.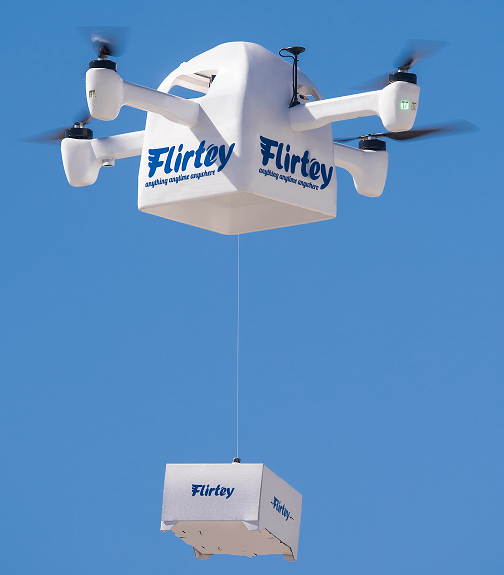 As per Flirtey's Founder and CEO, Matthew Sweeny, they have conducted more than 6000 test flights and ensured the safety of their drones in any kind of emergency situations like loss of GPS or motor etc. Flirtey Eagle also includes a parachute to safeguard the drone from damage of falling in case of any failure.
Flirtey Eagle's technology allows safe and precision delivery by keeping it high in the air and lowering the package connected with a line to the precise location. If there are any issues, Flirtey's technology also allows cutting the line remotely to ensure the safety of the drone.
Flirtey Eagle can deliver packages weighing up to 8 pounds and can cover a distance of 3 miles in 6 minutes. It does not just help businesses in saving their delivery costs and increasing revenues but also the environment by being more energy efficient and environment friendly. After completion of their technology, Flirtey has started taking pre-orders now.
Flirtey's advanced technology development was led by the head of NASA's program to fly drones over people, and first unveiled at The National Press Club in Washington, D.C. Flirtey now has more than 1,000 patent claims across a portfolio of granted and provisional patents, and has conducted more than 6,000 flights to date.
The Company previously raised approximately $15 million in its Series B Preferred Stock financing, which valued the company at approximately $100 million. Flirtey's Series B investors include Hancock Prospecting, Lowercase Capital, Woowa Brothers, Ace Investment Partners, Amity Ventures, Y Combinator, members of the Sierra Angels, former CEO of the Commonwealth Bank Ian Narev, former Australian Ambassador to the United States of America Joe Hockey and Melissa Babbage (a member of Flirtey's Board of Directors), and In-Q-Tel.
"In-Q-Tel scouts the global market for cutting-edge technologies that have the potential for both commercial success and high national security impact, and we're excited to be an investor in Flirtey, which has built best-in-class technology for last-mile drone delivery," said Andy Ku, Principal, In-Q-Tel.
Please read full story at PR Newswire.