Fast food is one of the most common diets. According to a CDC report, almost 37% of Americans consume fast food regularly and the biggest reason why people use fast food is: It's Fast. People know that they won't have to wait long in order to get fast food as it can be prepared and made available quickly. However, if you are a fast food restaurant owner then you would know that even there can be delays in preparation of fast food which can make customers wait more then necessary. And whenever there are delays, you potentially lose the opportunity to earn more revenue. Fast food owners mostly hire consultants who help them to run their operations smoothly by finding key areas to fix and improve their performance. Hiring such consultants is not cheap and how long you may use them to monitor your fast food business? Not all the time?
Did you ever think of an idea where you could leave your fast food business monitoring to some computer software that could keep checking your fast food restaurant 24/7 and then share information with you using which you could improve service speed of your restaurant?
If so then get ready for our new portfolio startup, Hellometer from Y Combinator's Summer 2020 batch.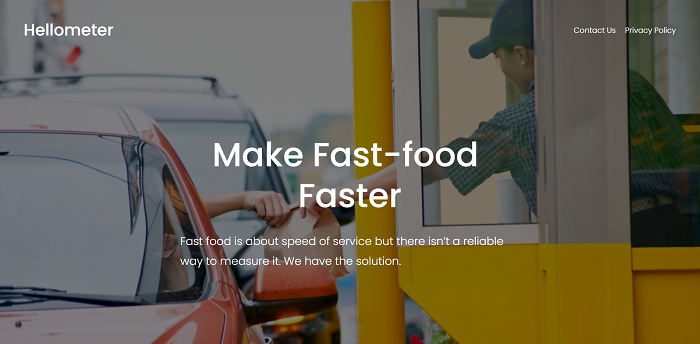 Hellometer uses Computer Vision AI on the video monitored by cameras that are deployed on-site to fast food restaurants. After applying AI algorithms on video data, all metrics and insights are stored in Hellometer Cloud. After that Hellometer's app sends timely alerts and insights to related stakeholders for taking actions to improve their restaurant operations.
Hellometer's AI based solution is quite affordable and helps owners to run even multiple locations as if they are running them on-site. Another important thing about Hellometer is that even their solution uses video cameras for monitoring but it fully respects everyone's privacy. Hellometer doesn't use any facial recognition or biometrics for monitoring of individual employees.
Hellometer has also built partnerships with popular franchises like Dunkin', Subway and Taco Bell. If you are also a fast food owner, feel free to contact Hellometer's team to discuss and learn that how their solution may help you increase your fast food business revenue.