According to a recent forecast for 2017, worldwide mobile phone users are expected to reach 4.77 billion and by 2019, this figure may cross 5 billion. Another study shows that these mobile users spend 43% of their mobile app time on games. Why people spend so much time in playing games on their mobile devices? Because it's fun.
What if you can experience the same game-like fun from a learning app? Then learning won't remain a boring thing but become fun for everyone. Sounds exciting? Try Py.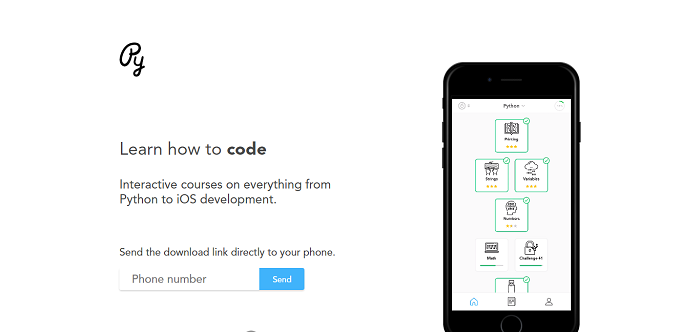 Py is one of our latest portfolios from YCombinator's Summer 2017 batch that's building a mobile-first learning platform through which users can learn coding on the go with the help of interactive courses on Python, Swift, Data Science, HTML, JavaScript, Data Analysis, Java, C# etc. The most amazing thing about Py is its user experience. It teaches coding in a fun way by first sharing the concept with interactive examples and then making users to complete certain challenges. Py also makes you write and run code to see their output. The content used in Py is created and reviewed by people at Facebook, Google, NASA and Yale.
Py tracks your progress and keeps you engaged by notifying you to practice desired skills for few minutes on daily basis. You can also upgrade to Pro features with monthly subscription that unlocks premium content and also allows you to live chat with trainers for quick help.
Py is available on both Apple App Store and Google Play Store. Give it a try and start having fun with learning.