Chatbots are quite popular these days. They have been in the market for many years but they are not simple bots any more that just used to scan for typical keywords in the text and then reply a canned answer. Modern chatbots make use of sophisticated AI technologies like NLP (Natural Language Processing) and machine learning to deliver human-like conversational experience to the audience. Chatbots are widely being used for several real-life use cases. For example, news media are using chatbots to deliver news, businesses are using them for providing instant customer support to boost response time and clubs are using these smart bots to update their fans etc. In simple words, the latest breed of AI-driven chatbots are providing an easiest and quickest way to engage with your audience.
If you feel interested in using a chatbot for your business, service or club etc. then check out our latest portfolio startup, Chatfuel.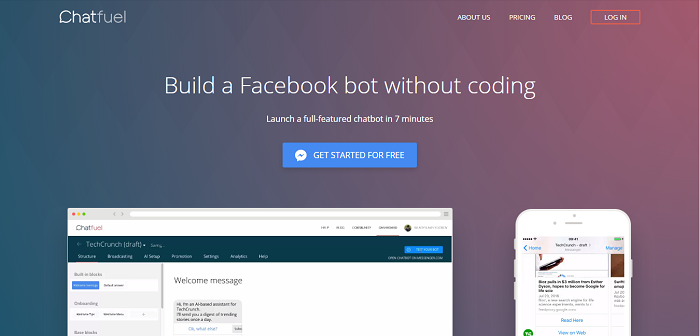 Chatfuel graduated from YCombinator's Winter 2016 batch and it uses state of the art AI-based technologies to deliver best customer experience. You just have to add conversational rules (as phrases and related responses) for your bot in Chatfuel dashboard and your bot will send your pre-defined answers to users by recognizing similar phrases from them with the help if its NLP technology.
Chatfuel helps you grow your audience by linking chatbot with your facebook page and even facebook ads. For example, you can configure your bot in a way that whenever someone comments on your facebook page, your bot can send a private message to him. You can even control that whether bot replies to all comments or only the ones having some specific phrases. With Chatfuel, you can also have your chatbot broadcast messages for your audience. Messages can be sent immediately, scheduled for later or sent automatically from external sources (like Instagram, Youtube, Twitter, Google Services etc.) whenever they update. Chatfuel allows integrating with 3rd party services through its JSON API plugin.
Chatfuel even helps you track and improve the performance of your bots by providing analytics related to chatbot users, conversion rate and their engagement/activity. For example, you can also track that what types of content and experiences make your audience more engaged and keep them coming back. This way, you can always keep providing improved user experience to your audience.
So, don't wait and Get Started for FREE to build your first chatbot in just 7 minutes without any coding.