If you already have a policy with a car insurance company, you would remember the hassle of finding and comparing best quotes from insurance companies. On top of that, handling complex paperwork is also time consuming. Yes, there are many insurance agents available in the market and you might have used them too but they mostly help with the first part by finding you quotes and still leave you with the paperwork to switch your insurance provider. You may also ask yourself that why do you have to switch your current insurance company after all. Well, insurance companies keep offering deals from time to time and you can take benefit from them to save your money. However, the hassle of switching  insurance providers and involved paperwork makes people reluctant of the change.
How about a service that automates your whole insurance shopping experience by doing everything itself on your behalf and all you have to do is just choose a best quote that saves you money?
Sounds interesting? Then you would love Jerry.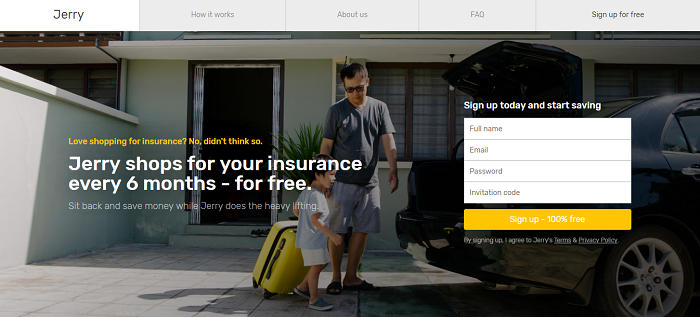 Zillionize is glad to announce about its new portfolio startup, Jerry. Jerry is an AI-based virtual insurance shopping agent that negotiates better rates from the market within 2-3 days of your initial request and after it has collected 10-15 best quotes, it shares them with you so that you can compare and decide. Once you select and confirm a desired quote, Jerry cancels your current insurance contract and sets up the new one by doing all paperwork on your behalf. Once done, you get your new insurance card from the Jerry app. Jerry just doesn't stop here and after giving you initial quote, it keeps comparing quotes from insurance companies biannually and if it finds better deals, it will share them with you to switch easily and save money.
Did we mention that Jerry is FREE? Yes, it is. There are no tricks behind and no hidden fees whatsoever. You can use it free of cost. Currently, Jerry only handles cars insurance but it will let you receive quotes of more vehicles in future.
So, if you have a policy with a car insurance company and want Jerry to help you save money then go ahead and Sign Up!