Whether you own few cows or have a dairy farm, you know better about all the hard work required to manage your cows. Whether it's about milking the cows or keeping an eye on them to monitor their health, estrous cycle and behavior etc., it's all about timing. A simple example is to monitor estrous behavior or silent heat of cows from time to time because missing an estrous may delay cow breeding from 2 to 3 weeks which ultimately may cause delayed lactation. Monitoring all these checks manually requires lots of efforts and we know your pain. You might have dreamed of some magic that automatically informs you about your cows' health, estrous cycle, temperature and behavior at the right time so that you don't have to check yourself every time.
If so then your dreams have come true and there is such a magical technology for your cows now whose name is Cowlar and it's one of Zillionize's portfolio startups now.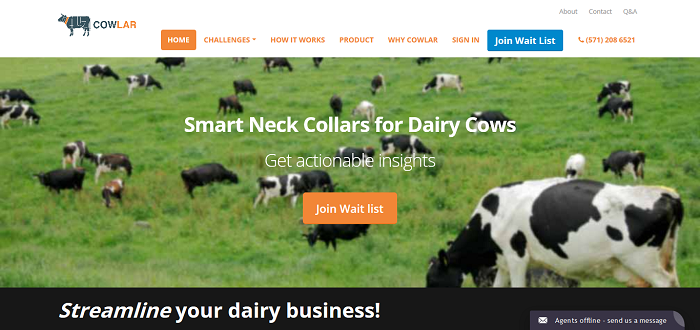 Cowlar is a smart neck collar for your cows. You just need to wrap it around the neck of your cows and install the solar powered Cow router (that connects with all Cowlars within 2 miles range) to get go. Sensors integrated in Cowlars track all data related to cow's temperature, behavior and activity and send to Cowlar servers through Cow router where all this data is processed after applying complex machine learning algorithms and dairy science to make sense. Based on processed information, Cowlar servers send actionable alerts and recommendations to farmers to detect early diseases, estrous cycles etc. Farmers can also view information, statistics, alerts and all analysis using Cowlar web and mobile apps. You also don't have to worry about power consumption of Cowlar because it almost runs an year with a single recharge.
You may Join Wait List, If you like this magical wearable and would like to try it on your cows.